The Writing Show
Thursday, September 26, 2013
6:30-8:30 p.m.
The Camel
1621 W. Broad St., Richmond
Ample parking available in the Lowe's parking lot across the street (Lowe's and the Camel have a parking sharing agreement).
Description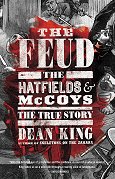 Where will your story take you? History can be revealed in countless ways.
Best-selling author Dean King will bring his experience with his book The Feud to the stage of the Writing Show this month. He'll be joined by his editor Geoff Shandler from Little, Brown and Company, and Darrell Fetty, producer of the Emmy and Golden Globe-winning miniseries, The Hatfields & McCoys.
Dean and his panelists will discuss his manuscript's many-legged journey. He'll share the lessons he learned from the experience and how your stories might share the same success.
Recap: Unearthing the true story of the Hatfields and McCoys feud by Sheila Sheppard Lovelady and Jacqueline Hatch
Panelists
Dean King is an award winning author of ten books and dozens of articles in national magazines. He has a passion for historical and adventure stories, including his latest book The Feud: the Hatfields and McCoys the True Story and the Daily Telegraph book-of-the-year Patrick O'Brian: A Life. The subject of a two-hour History Channel documentary, his book Skeletons on the Zahara is currently being developed as a feature film. Dean's writing has appeared in Esquire, Garden & Gun, Granta, Men's Journal, National Geographic Adventure, and the New York Times.
Darrell Fetty is an American actor, screenwriter and Emmy-nominated producer for his recent work on the History miniseries Hatfields & McCoys which has received a total of 16 nominations. He resides in Los Angeles, California with his wife, the former model/actress Joyce Ingalls, and continues to work in film, television, and theater.
Geoff Shandler joined Little, Brown in September, 2000. Since then, he has worked with numerous bestselling and award-winning authors, including Malcolm Gladwell, Jonathan Safran Foer, John le Carre, James Bradley, Evan Thomas, Dana Priest, Jim Miller, Robert Dallek, Mary Gabriel, Luis Alberto Urrea, Sir Harold Evans and Jake Tapper.