At the monthly Writing Show, authors and other literary professionals offer an insider's look at the craft and business of writing. The Writing Show, which runs the last Wednesday of every month from January through September, affords writers a chance to network, learn, and expand their writing horizons. The first half of the program is a panel format, where writing experts share thoughts and advice on the evening's topic. Following intermission, the audience has the opportunity to participate in a Q&A.
For 2017, we the Writing Show will continue in its home at Firehouse Theatre, which is located at 1609 West Broad Street. Free parking is available across the Street from Firehouse in the Lowe's parking lot.
The programming for 2017 was designed with your comments and suggestions in mind and is adapting to meet your writing craft and business needs.
The 2017 Lineup
(Schedule subject to change due to speaker availability)
January 25: Befriending the Scissors: Cutting the Extraneous
February 22: The Professional

Writer

: Author Newsletters & Tapping Your Tribe
March 29: Fairytales, Folklore & Stories that Endure
April 26: Finding Authenticity:

Writing

Outside Your Gender, Race or Culture
May 31: The Squishy Middle: Keeping Your Readers Captivated
June 28: Examining the

Writing

Marketplace: Micro to Mid-sized Publishers
July 26: The Art of the Start: Finding the Entry-point to your Story
August 30: Playing with Language: Tools & Techniques for Creative Play
September 27: Stepping Up to the Stage: Public Speaking for

Writers
Individual show tickets are $12/members and $15/non-members. Two free passes to the Writing Show are included with an Individual Membership or upgrade to the Writing Show Membership to receive nine months of shows for a savings of $47.
Date:
Last Wednesday of every month from January through September
Time:
6:00 pm – 8:30 pm (Meet & Greet at 6:00; program starts at 6:45)
Location:
Firehouse Theatre 1609 West Broad Street
Price:
$12 – Members; $15 Non-members ($5 for students)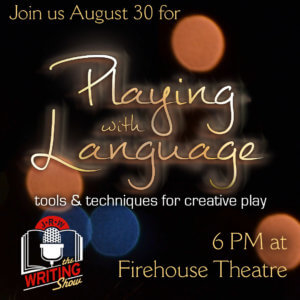 You may write a lot, but do you ever play? Writing does not always have to be about goals and deadlines, outlines and hard structures. Allowing yourself room for creative play can stretch your imagination, allowing room for new ideas and inspiration to come to the surface. At this Writing Show, packed with tangible advice, writing techniques, and creative exercises, hear award-winning writers talk about their creative process and how you can infuse your own writing life with new energy. Come be inspired. Come for an infusion of artistic play.
Date: Wednesday, August 30, 2017
Time: 6:00 pm – 8:30 pm (Doors open at 6:00 for Meet & Greet; program starts at 6:45)
Location: Firehouse Theatre 1609 West Broad Street, Richmond, VA, 23220
Price: $12 – Members; $15 Non-members ($5 for students)
Marita Golden
Co-founder and President Emeritus of the Zora Neale Hurston/ Richard Wright Foundation, Marita Golden is a veteran teacher of writing and an acclaimed award-winning author of over a dozen works of fiction and nonfiction. As a teacher of writing she has served as a member of the faculties of the MFA Graduate Creative Writing Programs at George Mason University and Virginia Commonwealth University and in the MA Creative Writing Program at John Hopkins University. She has taught writing workshops nationally and internationally to a variety of constituencies.
Her new novel is The Wide Circumference of Love. Her other books include the novels After and The Edge of Heaven and the memoirs Migrations of the Heart, Saving Our Sons and Don't Play in the Sun: One Woman's Journey Through the Color Complex. She is the recipient of many awards including the Writers for Writers Award presented by Barnes & Noble and Poets and Writers and the Fiction Award for her novel After awarded by the Black Caucus of the American Library Association. Website: https://maritagolden.com/
And make sure you don't miss Marita Golden on Thursday, August 31, 2017 for our August Master Class: The Naked Truth: Writing a Memoir that Moves Readers
Cheryl Pallant
Cheryl Pallant is an award winning author of twelve books, primarily in poetry, but also nonfiction. Her poetry collection, Her Body Listening, was released earlier this year, and will be followed up by her memoir, Ginseng Tango, due out next month. She has published short stories, essays, and poems in numerous journals and anthologies throughout the U.S. and abroad. She wrote for Style Weekly for 12 years and teaches at University of Richmond. Website: cherylpallant.com
Patrick Dacey
Patrick Dacey is the author of the novel, The Outer Cape, an Amazon Editor's Pick, and the collection of stories, We've Already Gone This Far, selected by the American Bookseller's Association as a Top Ten Debut. He holds an MFA from Syracuse University and has taught writing at various schools, including the College of William and Mary. His stories have been featured in The Paris Review, Zoetrope All-Story, and Guernica, among other publications.
Melissa Scott Sinclair
Melissa Scott Sinclair writes for Richmond magazine, Style Weekly and other publications. Melissa's creative nonfiction was recently published in Nine Lives: A Life in 10 Minutes Anthology. Her short story "Everything Must Go," a ghost story set in the decaying corporate headquarters of Circuit City, appeared in the Richmond Macabre collection. Website: http://www.melissascottsinclair.com/