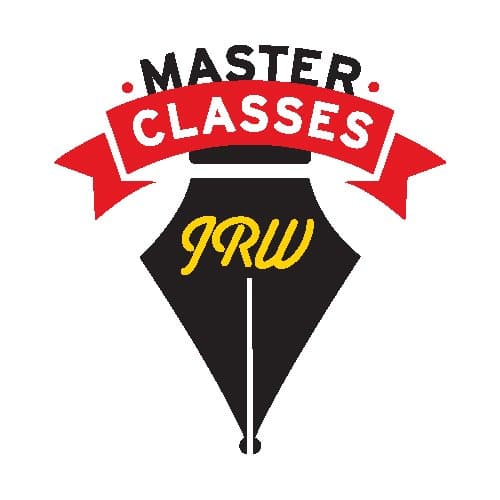 James River Writers is excited to announce that we have moved the remainder of our
2020 Indie Publishing Master Class Season Online!
New Pricing:  $30 for Members; $45 for Non-Members
Our Master Classes are presented by skilled publishing professionals who share their knowledge and experience. These classes are designed to leave you walking away with nuggets of information you can apply to your indie publishing work. The online format, using the Zoom platform, will consist of an hour to an hour and a half of presentation, followed by a period of Q&A with participants.
PLEASE NOTE THAT YOU MUST REGISTER FOR THE ONLINE MASTER CLASSES THAT YOU WISH TO PARTICIPATE IN, EVEN IF YOU ALREADY REGISTERED FOR THE IN-PERSON CLASSES, OR HAVE AN INCLUSIVE JRW MEMBERSHIP. THIS WILL SECURE YOUR SPOT AND ENSURE THAT YOU RECEIVE THE LINK REQUIRED TO PARTICIPATE IN THE CLASS. THANK YOU!
2020 Indie Publishing Master Class Series (NOW ONLINE!)
Join James River Writers for the remainder of this Master Class series on Indie Publishing. All classes are from 9:30 am–11:30 am. The remaining online dates and topics are:
April 18, 2020—Indie Publishing Marketing and Distribution
May 9, 2020—Indie Publishing Print Books
May 30, 2020—The Business of Indie Publishing
Find details and registration for each class below. Register for one, or choose them all! You must register for each class individually. And, don't forget to register even if you already paid for an in-person class, or if you have an all-inclusive membership with JRW.  This will ensure that you secure your spot and receive the needed link to join the online class.
April 18—Indie Publishing Marketing and Distribution
with Tracee Lydia Garner
You have your indie book all ready to go. It's uploaded, printed, and for sale. But where is it going? How do you market and distribute it to the most people in the most professional way? How can you approach bookstores and work with them to sell you book? And what's the best use of social media? This installment of the self-publishing master class series is designed to give you the confidence and components to get your book out into the world. Best-selling and award-winning author Tracee Lydia Garner will help you write your own marketing plan during class, giving you a clear path to success for your book.
Tracee Lydia Garner is a best-selling, award-winning author with twelve, almost thirteen titles. She holds a degree in Communications and has been in the writing and publishing industry for almost twenty years. She hosts her own annual conference in Northern Virginia for aspiring writers and has penned a nonfiction, self-help book of anecdotal advice for life's journey. After getting her foot in the door through a First Time Writer's Contest at 23 years of age, Tracee won the national contest and was able to obtain trad contracts for her next few books before branching out and charting her own course in publishing.
May 9—Indie Publishing Print Books
with Ran Walker, 2019 Indie Author of the Year
With the advent of print on demand, you can have a copy of your book in your hand without going through all the traditional gatekeepers. However, if you want a professional final product, there's a lot more to it than uploading your file and clicking the "buy" button. What steps should you take to make sure your book looks like it belongs on the shelf? What are the most common errors indie authors make when getting hard copies of their books? This Master Class on self-publishing is designed to help you create physical copies of your indie book. Ran Walker, the winner of the 2019 Indie Author of the Year, will share his experience so your indie printing process gets you the book you want.
Ran Walker is the author of eighteen books. A former practicing attorney, he is the winner of the 2019 Indie Author of the Year and 2019 BCALA Fiction Ebook Awards. He teaches creative writing at Hampton University and lives with his wife and daughter in Hampton, Virginia. He can be reached via his website, www.ranwalker.com.
May 30—The Business of Indie Publishing
with Karen A. Chase
In our three previous indie publishing classes, the instructors have focused on getting a book uploaded, published, and out in the world. But before you do all that, exactly how do you prepare to handle the nitty gritty business aspects associated with publishing? We'll cover buying ISBNs, Library of Congress copyrights, creating an LLC, managing your time and taxes, and more. You'll build your own to-do list, and begin an annual budget to support your chosen publishing goals. Whether you're determined to produce one book or be a publishing entrepreneur, award-winning indie author Karen A. Chase will outline the options for how to reduce your losses and stressors, and better understand your profits.
Karen A. Chase is an independent author and a Daughter of the American Revolution with the Commonwealth Chapter in Virginia. Her first novel, Carrying Independence, book one of the 3-part Founding-Documents Series, is historical fiction about the signing of the Declaration of Independence. It was awarded #12 on Shelf Unbound's 100 Best Indie Books of 2019. Her first book, Bonjour 40: A Paris Travel Log, garnered seven independent publishing awards. Karen was a Virginia Foundation for the Humanities fellow for the 2019-2020 academic year, with residency at the Library of Virginia. Originally from Canada, Karen is now chasing histories from Richmond, VA.