Since 2003, the James River Writers Conference has attracted prize-winning authors and highly regarded editors and agents from around the country to share their wisdom about writing and publishing.
More than 300 people attend this multi-day event, known for its inspiring, collegial atmosphere and Southern hospitality.
Conference Details
Saturday, October 13 – Sunday, October 14, 2018
at the Greater Richmond Convention Center, 403 North 3rd Street, Richmond, VA
Pre-Conference Master Classes
Friday, October 12, 2018
James River Writers kicks off our conference with Pre-Conference Master Classes. Absorb the wisdom of the experts and gain hands-on experience, whether you want to discover that perfect angle to get published or explore nuances of your craft.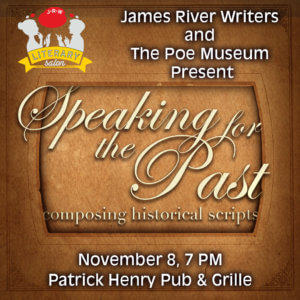 First-person historical interpretation is a powerful and impactful teaching tool for groups of all ages, and is an effective way of engaging modern students with aspects of the past which can be difficult to grasp. Composing accurate scripts presents different challenges, particularly if the subject is a person who had been historically silenced. In this Literary Salon, historical interpreters Valerie Davis and Debbie Phillips will present on the processes of accurate script-writing and portrayal, particularly for women and persons of color, who are often silent in the written record.
WHEN: Thursday, November 8, 2018, 7 pm – 9 pm
WHERE: Patrick Henry Pub & Grille in the upstairs salon; 2300 East Broad Street in Historic Church Hill
COST: Free and open to the public (no ticket required)
Valerie Davis is a gifted storyteller and actress whose powerful presentation "From Tragedy to Triumph: the Martha Ann Fields Story" has been shared with dozens of schools and churches to critical acclaim. She was written and starred in many One Woman shows, highlighting issues like domestic violence and also celebrating the bravery of women of color throughout history. Her workshops on storytelling are enlightening, and she has dedicated her work to the memory of her mother, Margaret A. Davis ("Queen Margaret").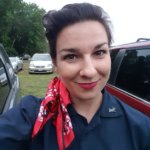 Debbie Phillips is a local historian and regional tour guide who has been composing historical scripts for nine years. Her characters include Eliza Poe, Edgar's birth mother; Elmira Shelton, Poe's first and last love; Patrick Henry's eldest child Patsey Henry Fontaine; Sally Tompkins, Captain of the Confederacy; Martha Washington, and more. Debbie manages public programs and rentals at the Edgar Allan Poe Museum in Shockoe Bottom, and enjoys engaging the public with history in unique and interactive ways.
What is your favorite James River Writers event?
What is James River Writers all about?