"Hybrid authors" aren't just writers who run on a mix of coffee and wine. They are writers redefining their careers by taking advantage of the multiple publication pathways available to them. Self-publishing and traditional publishing are not mutually exclusive, and understanding the terminology of the evolving publishing world is only the beginning. We're closing out the 2018 Writing Show season with a panel of three highly acclaimed, bestselling, and award-winning writers to show you the possibilities, as well as the pros and cons, of different approaches to your writing career.
Date: Wednesday, September 26, 2018
Time: 6:00 pm – 8:30 pm (Doors open at 6:00; meet & greet 6:00-6:45; program starts at 6:45)
Location: Firehouse Theatre 1609 West Broad Street, Richmond, VA, 23220
Price: $12 – Members; $15 Non-members ($5 for students)
REGISTER NOW
Mollie Cox Bryan
Mollie Cox Bryan writes cozy mysteries with edge and romances with slow, sweet burn. The first book in her new mystery series, "Cora Crafts Mysteries," is Death Among the Doilies, which was selected as "Fresh Fiction Not to Miss" (a subscription book box) and is a 2017 Finalist for the Daphne du Maurier Award. The second book, No Charm Intended, was named a Summer 2017 Top 10 Beach Read by Woman's World. She also wrote the Agatha-award nominated "Cumberland Creek Mysteries." Several of the books in that series were short-listed for the Virginia Library People's Choice Award. Website: molliecoxbryan.com. Twitter: @molliecoxbryan
Mychea
A native of metropolitan Washington, DC, Mychea holds a bachelor of science in graphic design and is the author of eleven fiction novels and two eBooks, resulting in over half a million book sales. She is also the writer and producer of three stage plays and a web series that were filmed in Maryland and DC.
Mychea has launched From Ground Zero to Published, an online writing and publishing course to help individuals looking to self-publish books or publish the traditional way. Find it on YouTube on Channel Mychea. Most recently she has ventured into public speaking and hosting seminars on publishing in today's market, and she is currently working on a web series that will debut in winter 2018, and a film and stage play to debut in 2019.
In her spare time, Mychea loves to volunteer at men's and women's shelters; read romance, suspense and mystery novels; draw; plan events; and hang out with friends. Website: www.mychea.com, Twitter: @authormychea
Lee Savino
Raised by wizards on the glorious peaks of Mount Kilimanjaro, Lee Savino grew up sword fighting shadows and befriending sherpas until she flew to the Ivory Coast to study shark-fighting.
She went to college for creative writing (Hollins University–graduated summa cum laude and won the Hollins fiction prize) and now writes fiction full time. Her Facebook group, Millionaire Author Mastermind, helps writers publish, market, and monetize their books, so they can earn a living doing what they love.
A dual resident of the US and her own imaginary world, Lee married a werewolf. They now have a son who's pretty normal, except when he's tired and turns into a Komodo dragon. And they lived happily ever after (except for the half hour before bedtime). The End.
Website: www.leesavino.com. Twitter: @SavinoLee   To sign up for her newsletter full of fabulous and fun author advice go to www.leesavino.com/author-advice
Kristi Tuck Austin
Kristi Tuck Austin waded New York City sewers, ran from trains, and slid through a water pipe to the Harlem River while researching her novels. She's celebrated Thanksgiving in the Paris catacombs, hiking, crawling, wading (again), and dining by candlelight. In her daily life, which is dry and aboveground, she's the founder of Tuck Austin Associates, which helps authors increase their books' discoverability. She's a former JRW board chair and conference chair. Website: tuckaustinassociates.com. Twitter: @KristiAustin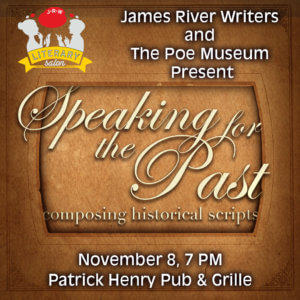 First-person historical interpretation is a powerful and impactful teaching tool for groups of all ages, and is an effective way of engaging modern students with aspects of the past which can be difficult to grasp. Composing accurate scripts presents different challenges, particularly if the subject is a person who had been historically silenced. In this Literary Salon, historical interpreters Valerie Davis and Debbie Phillips will present on the processes of accurate script-writing and portrayal, particularly for women and persons of color, who are often silent in the written record.
WHEN: Thursday, November 8, 2018, 7 pm – 9 pm
WHERE: Patrick Henry Pub & Grille in the upstairs salon; 2300 East Broad Street in Historic Church Hill
COST: Free and open to the public (no ticket required)
Valerie Davis is a gifted storyteller and actress whose powerful presentation "From Tragedy to Triumph: the Martha Ann Fields Story" has been shared with dozens of schools and churches to critical acclaim. She was written and starred in many One Woman shows, highlighting issues like domestic violence and also celebrating the bravery of women of color throughout history. Her workshops on storytelling are enlightening, and she has dedicated her work to the memory of her mother, Margaret A. Davis ("Queen Margaret").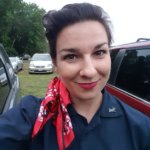 Debbie Phillips is a local historian and regional tour guide who has been composing historical scripts for nine years. Her characters include Eliza Poe, Edgar's birth mother; Elmira Shelton, Poe's first and last love; Patrick Henry's eldest child Patsey Henry Fontaine; Sally Tompkins, Captain of the Confederacy; Martha Washington, and more. Debbie manages public programs and rentals at the Edgar Allan Poe Museum in Shockoe Bottom, and enjoys engaging the public with history in unique and interactive ways.
Since 2003, the James River Writers Conference has attracted prize-winning authors and highly regarded editors and agents from around the country to share their wisdom about writing and publishing.
More than 300 people attend this multi-day event, known for its inspiring, collegial atmosphere and Southern hospitality.
Conference Details
Saturday, October 13 – Sunday, October 14, 2018
at the Greater Richmond Convention Center, 403 North 3rd Street, Richmond, VA
Pre-Conference Master Classes
Friday, October 12, 2018
James River Writers kicks off our conference with Pre-Conference Master Classes. Absorb the wisdom of the experts and gain hands-on experience, whether you want to discover that perfect angle to get published or explore nuances of your craft.
What is your favorite James River Writers event?
What is James River Writers all about?