Married novelists Carrie Brown and John Gregory Brown have spent their working lives writing and teaching side by side in the foothills of the Blue Ridge Mountains at Sweet Briar College, where John is the Julia Jackson Nichols Professor of English and directs the College's Creative Writing program. Carrie now serves as Distinguished Visiting Professor at nearby Hollins University in Roanoke, Virginia. Carrie and John have published ten books between them and raised three children on the campus at Sweet Briar. 
James River Writers recently spoke with Carrie Brown and John Gregory Brown, who discussed "using what you know and where you're from in fiction" at JRW's Writing Show on Thursday, April 24. The couple also taught Learning to See: A Master Class for Writers in the Art and Practice of Looking on Friday, April 25.
Five Questions with Carrie Brown and John Gregory Brown
Question One:
K: John, you wrote in the voice of a young girl (Meredith Eagen), a woman (Meredith's stepmother Catherine), and a black man (Murphy Warrington) in your first novel, Decorations in a Ruined Cemetery, and you earned praise for creating authentic voices for these three characters. Writing in the voice of a person of another race can be risky, and you did not attempt to write Murphy's dialogue the way a black New Orleans man of his time and class would have spoken. [I understand that Murphy was based on a black man who worked for your family in New Orleans.] Author Kathryn Stockett has been criticized for the black dialect she created in The Help [a book about black maids who tell their stories to a white woman during the 1960s], and she was sued by a family maid who claimed her likeness and name were used unfairly in the book. How do you create an authentic and respectful voice for people of a different race? Did your childhood in New Orleans shape your feelings about race and the treatment of black characters?
John: Actually, I think all I tried to do was to create a voice for the character of Murphy that felt and sounded real to me — not real in the sense of a particular regional dialect but in the sense of a character speaking out of his own individual encounters with the world. That world – the one in which Murphy has lived – hasn't provided much for him in regard to education and wealth, but it has shaped him nevertheless in profoundly important ways. I was trying to create an individual rather than a "type," and no one had suggested to me that this was a difficult or fraught enterprise. Certainly reading writers like Faulkner and Walker Percy and Flannery O'Connor and Reynolds Price didn't convey to me that I shouldn't include African Americans among my characters.
Question Two:
K: John and Carrie, in John's Decorations in a Ruined Cemetery and Carrie's The Last First Day, mothers are gone, fathers uproot children, and daughters ponder their father's secrets. Sins of the fathers cause suffering for children, and an inability to tell the truth stands in the way of personal happiness. Ruth in The Last First Day tells her husband Peter, "If I can't ever tell anyone the true story . . . then no one will ever know me." "You can tell them . . . You can,' he replies. "She knew better than that . . . Some stories you simply could not let out into the open." In Decorations, Meredith says, "I wanted to talk and my father would not. It is this failure, really, and no other, for which I blame him now." Her father Dr. Thomas Eagen believes his story "is no one else's business. . . . You don't just tell people these things."
John, I have read that you wrote Decorations because you wanted to explore the complexity of family relationships and the problem of secrets. Your father never discussed a leg injury he suffered as a child, and your mother never talked about her own mother. What we don't know about our own history shapes us as much as what we do know. Can you both discuss how your individual histories have shaped your writing?
John: The various geographies of a writer's life – physical, psychological, emotional, historical – no doubt always have a profound effect on the work that a writer produces. But the effect is not necessarily easily traced; it's not a straight line of cause and effect. Who I am – who anyone is – is such a complex affair. I feel as though I discover in my work some things about myself, but I don't exactly set about "using" them. I think we're all forever following in our own wake as much as we're steering the ship. But then again I'm not the most rational person in the world; a rational person is perhaps doing a great deal more steering than I am.
Carrie: It's impossible to escape one's history, even when that history is a mystery, as it is for Ruth in The Last First Day. Who and where we come from influences us — directly or indirectly — in many ways, whether ball and chain or ghost or abiding spirit of grace. There's a joke about the misfortune of writers born into happy families; what on earth will they write about? In my case, my happy family – though of course it has had its share of sadness and loss; the fact of death alone means such things are inescapable – gave me many gifts, including people who believed that it was the proper power of books to enlarge the mind and heart. Also, my father's work sent him to many places in the world, and my travels at his side gave me experiences that shaped my fiction – shaped my imagination – in all kinds of ways, including at the purely sensory level. Finally, I spent a number of significant years of my childhood on a farm in England, where I lived outdoors and hardly remember speaking to an adult for many years. I do not underestimate the value of those years for myself, when I roamed a safe but varied universe mostly alone. I was busy examining the natural world around me, and the lives of the adults with whom I crossed paths, but meanwhile I was largely invisible to them. Invisibility can be a great gift to a child.
Question Three:
K: Carrie, your character Ruth in The Last First Day graduated from Smith College two years after Gloria Steinem, the feminist who turned 80 last month, and she feels that her accomplishments pale in comparison. Ruth has devoted herself to Peter's career – working hard to support the school where he is headmaster and its students but receiving no pay in return. "That was how women had been treated – wives had been treated in those days. Today no one would tolerate such an arrangement, she knew, and everyone was better for it." Ruth painted, played the piano, and attempted to write a play and a novel, but abandoned those pursuits saying she'd "never had quite enough talent . . . or maybe it was patience."
Carrie, you are a writer, teacher, wife, and mother. I understand that you originally came to Sweet Briar College because of John's career, but you were able to create your own path and begin your own career as a writer and teacher. You earned your MFA when you were in your thirties and the mother of three young children. Do you have any advice for women who are struggling to pursue their own dreams – creative or otherwise – while supporting their husband's careers and caring for children? As a creative writing professor at Sweet Briar and now at Hollins University – two women's schools – do you feel that women entering a creative profession face different challenges than men, or is it possible that the creative world offers more possibilities than a more traditional work world does?
Carrie: History is full of women – and men, too — who have struggled to make time for their lives as artists. Alice Munro claimed that she became a short story writer – rather than a novelist – because her life as a mother of young children left her so little opportunity to write. She began instinctively to create stories, she said, because they seemed more manageable in terms of length. (That those stories are often novelistic in scope is evidence of the extraordinary capacity and reach of her imagination.) There's much evidence to show that the publishing and book reviewing world gives women writers short shrift,and that some people in it believe there is a such a thing as "women's" or "domestic" fiction (read: quiet, trivial, silly),which by definition must be less interesting than fiction which takes place in allegedly "non-domestic" arenas and is written by men. Women should be aware of this prejudice, but it ought not to influence their interests and intentions as artists, nor should they allow it to impede them. (Literature should never be measured in such general terms, anyway, because it's absurd to do so.)The artist's sovereign imagination, ungoverned by any force – political, social, and artistic – is her most necessary possession. I tell young women writers – and young men, too – that they must do the best they can by whatever method they can according to their own lights – including ignoring their writing sometimes, because other things (earning money, caring for a child or other relative or friend) seem more important – and never to be ashamed of that choice. The writing will wait for them. The world abounds with perhaps apocryphal stories of women locking themselves in their writing rooms while their small children pound their little fists on the door. Horrors. No one wants to write under such circumstances. My husband and I enforced strict bedtimes for our kids when they were young, and our children were mostly cooperative; I worked at night for many years, while John got up and went to work at five a.m. That worked until they became teenagers and started refusing to go to sleep at seven p.m. Surprise! Being flexible is the name of the game. Being willing to write anywhere, whenever. And if you can't, forgive yourself.
Question Four:
K: Carrie and John, the April 19, 2014 edition of the Wall Street Journal features an article ["The Upside ofMarrying Down" by Sonya Rhodes] suggesting that alpha women should marry beta men if they want to be successful because one partner's career always needs to come second. You both are successful writers who have spoken openly about your love for each other and your support of each other's work. Have you ever faced challenges because you are in the same field, or has your shared path been only positive?
John: I think I'm going to steer clear of any discussion of alpha and beta. Carrie and I are two very different people, and it is a daily consolation that our differences much more often interact in a complementary fashion rather than a competitive fashion. In any case, Carrie doesn't have a competitive bone in her body. And I have, I hope, grown much more calm and measured with each passing year.
Carrie: I regret to say, because surely some people will either fail to believe me or they will find it irksome, but John and I have been always grateful for each other's success… at least in part because we were working together simply to keep the lights on, so every sale was a reason to celebrate. We could buy food! We could put gas in the car! We could fix the roof! We could pay our kids' tuition! Also, being a writer is one of the things we love about each other. John's mind is very different from mine. I love that he continues to surprise me. It keeps the mystery alive, when you have no idea what strange and wonderful thing will come out of your spouse's head.
Question Five:
K: Carrie, in an NPR interview you discussed writing as "an act of empathy." You said, "I believe that there are many readers and writers for whom the experience of empathy is in fact exactly why they read and exactly why they write. If it is true that we are really all alone in the world, what greater comfort can there be to accompany somebody else on that journey." This statement reminds me of the following words from Murphy in John'sDecorations: "It's a dark world and we can do no more than help to hand the other along in the darkness, blind leading the blind."
Carrie and John, can you please both describe what you feel is the role of a writer? What is your most important goal when you are writing? What have readers shared with you that has been most meaningful? As teachers of writing, what is your most important goal? What do you try most to impart to your students?
John: Well, I still think that's it for me. I think literature offers, as all art does, a measure of consolation and grace. It's not enough ammunition, perhaps, to fight off all the sadness and misfortune and loss life throws our way, but it's enough to hold it at bay a while. That may seem like a small comfort, but I think it's an enormous one.
Carrie: I fear I have nothing coherent to say about the role of the writer, though of course there are writers and works of literature that have changed the course of lives, and obviously writers play an enormous role in human civilization. I just try to do this thing that I feel compelled to do, which is to set down words on the page in a certain fashion according to some largely inchoate impulse in me to make concrete certain feelings and certain pictures in my mind. But here is something David Malouf wrote and with which I agree:
"Fiction, with its preference for what is small and might elsewhere be irrelevant; its facility for smuggling us into another skin and allowing us to live a new life there; its painstaking devotion to what without it might go unnoticed and unseen; its respect for contingency, and the unlikely and the odd; its willingness to expose itself to moments of low, almost animal being and make them nobly illuminating, can deliver truths we might not otherwise stumble on."
I tell my students that anything worth doing requires a long apprenticeship, to read widely and without prejudice and with devotion, so that they understand their lineage as writers, and meanwhile to be kind to themselves and their fellow human beings. The great novelist Iris Murdoch, who was trained as a philosopher, said, "Literature is meant to be grasped by enjoyment." I believe that she meant us to understand "enjoyment" in the most complex terms. Every time someone writes to me that one of my books has meant something to him or her, I feel deeply humble and grateful. As Margaret Schlegel cries in E. M. Forster's Howard's End, "Only connect!"
Born and raised in New Orleans, John Gregory Brown is the author of the novels Decorations in a Ruined Cemetery (1994), The Wrecked, Blessed Body of Shelton Lafleur (1996), and Audubon's Watch (2001). His honors include a Lyndhurst Prize, the 1994 Lillian Smith Award, the 1996 Steinbeck Award, and the 2002 Louisiana Endowment for the Humanities Book of the Year Award.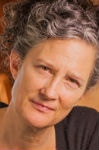 Carrie Brown is the author of six acclaimed novels —Rose's Garden, Lamb in Love, Confinement, The Hatbox Baby, The Rope Walk and, most recently, The Last First Day — as well as a collection of short stories, The House on Belle Isle. A new novel, The Stargazer's Sister, will be published by Pantheon Books in 2015. She has won many awards for her work, including a National Endowment for the Arts fellowship, the Barnes and Noble Discover Award, the Janet Heidinger Kafka Prize, The Great Lakes Book Award, and, twice, the Library of Virginia Award. She is a graduate of Brown University and the MFA program in Creative Writing at the University of Virginia, where she held a prestigious Henry Hoyns Fellowship.
Interview by Kathleen Sams Flippen, creator of the design blog A Flippen Life. Kathleen is a graduate of Sweet Briar College (A.B., English and Creative Writing).