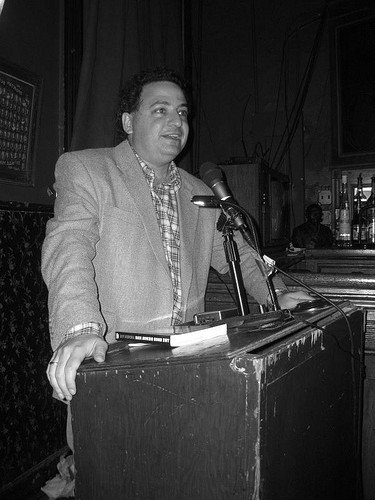 Andrew Jay Fox is author of Fat White Vampire Blues, published in 2003, Bride of Fat White Vampire, published in 2005, and The Good Humor Man, or, Calorie 3501, published in, 2009. The Good Humor Man, or, Calorie 3501, was selected by Booklist as one of the Ten Best SF/Fantasy Novels of the Year. Andrew was recently a panelist at The Writing Show on February 23, discussing "Sweet Indulgences: Writing Food, Drink, and Romance." He was interviewed by V. Mark Covington, a novelist and JRW website contributor, in March 2012.
---
QUESTION 1: I've been a big fan of yours since Fat White Vampire Blues. What inspired you to write your latest work, The Good Humor Man, or, Calorie 3501?
The original inspiration for the book was an article that I read in The New Yorker back in 1995 or 1996 about a pair of rival liposuctionists in Beverly Hills. Each championed a different technique of liposuction, and one had invented a new type of cannula, or fat-sucking tube, that would allow for quicker and more substantial removal of subcutaneous fat deposits. Unfortunately, this innovative cannula and the technique that went with it caused horrible side effects for patients, and the inventor/plastic surgeon spent much of his career in court, trying to defend himself.
It was a fascinating story, and it led me to write a short story called "Relics," which is about two rival liposuctionists in a future Miami Beach, in an era when weight-reduction surgery is obsolescent because of advances in genetically modified foods, who battle over possession of the preserved, liposuctioned belly fat of Elvis Presley. A few years later, after I'd written Fat White Vampire Blues, I decided to expand the short story into a novel.
By that time, the notion of "food police" was being bandied about, primarily because of efforts in certain cities, such as San Francisco and New York, to ban various types of fast foods and trans-fats. I've always been a big fan of Ray Bradbury's Fahrenheit 451, so I extrapolated his Firemen (who burn books) to my Good Humor Men (who burn banned high calorie foods). I kept my rival liposuctionists from "Relics" and made the preserved Elvis fat much, much more important to my story. The Elvis fat serves much the same purpose in my book as the Maltese Falcon does in Dashiell Hammatt's novel of the same name — a mysterious object of great worth for all the characters to chase — but it also represents possibly the only salvation the world can grasp hold of in the face of a wasting plague.
That cheese warehouse scene early in the book, by the way, was based upon an actual U.S. Department of Agriculture subterranean storage facility in the Midwest, outside of Kansas City. I worked many years as the "Government Cheese Man" for Louisiana, ordering millions of dollars of processed cheese each year for low-income senior citizens, so I became very familiar with the USDA system of food commodities.
QUESTION 2: Do you have a favorite character you have written?
The most fun I've ever had with a character has probably been with Doodlebug, my cross-dressing vampire/superhero sidekick from Fat White Vampire Blues and Bride of Fat White Vampire. Doodlebug (real name: Rory Richelieu) was so much fun to write because I based him on two people I knew very well — the woman therapist I saw for a couple of years after my divorce, and a cross-dressing buddy of mine from my writing workshop group. It was like mixing peanut butter and chocolate and coming up with Reese's Peanut Butter Cups; the combination just clicked in a terrific way.
QUESTION 3: How long have you been writing and what influenced you to start?
I wrote my first short story in fourth grade as a class assignment. I found I enjoyed the act of imagining a story and then putting it down on paper so much that I wrote other stories, some of which I read to my fellow summer campers on days when we were stuck inside because of rainy weather. I got such good responses from my peers that I decided this was something I wanted to continue doing. So I never stopped. I ended up writing mostly science fiction, fantasy and horror because those were the types of novels and stories that I enjoyed reading the most.
QUESTION 4: Those are my favorite genres also. I got hooked on Bradbury as a kid and I've loved science fiction ever since. What is your "process?" What tricks and techniques help you be both creative and productive?
I do nearly all of my writing on my commuter train to and from my job in Washington, D.C. Before moving to Northern Virginia, I did all my writing in coffee shops. Having a cup of coffee handy is helpful.
Also very helpful is writing on an old laptop or palmtop computer which doesn't provide access to the Internet. I know myself too well; if I were to try writing on a computer which had Internet access, I would spend 90% of my writing time screwing around.
I used to head into large projects with firm notions of only how to begin the book and how to end it. However, I've found that to be a dangerous system for me because I tend to over-write a good bit. If I don't plot out my middle, I can easily end up taking a couple of years writing a 200,000 word manuscript which I then have to cut back by 40%. So, nowadays, I outline my books rather thoroughly before starting them. I allow myself to wander away from my outline whenever my imagination heads me in another direction, but I like having the outline there as a safety rope.
QUESTION 5: Starting with an outline is great advice for new writers. Do you have any other advice for aspiring authors?
Don't anticipate ever making any significant money from your writing. It may happen, but chances are, it won't. Only pursue a path of serious, continuous, beyond-hobby-level writing if you are in love with the act of storytelling and cannot imagine yourself NOT writing. Read as much good writing (of all types) as you can. Plan to get a day job that will leave you both time and energy for your writing, but never assume that you'll be able to get by without a day job – you may end up one of the very few lucky ones, but chances are, you won't. Cultivate a love of people; talk with strangers.

Back to Five Questions index page