The Literary Salon: A Taste of the Shadow
November 16, 2017 @ 7:00 pm

-

9:00 pm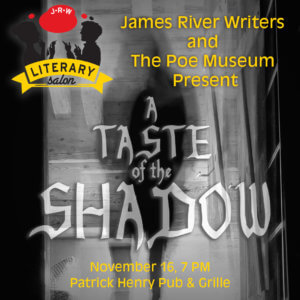 On November 16, James River Writers and The Poe Museum welcome you back to the grand tradition of the literary salon —an intimate gathering centered around an inspiring host to "inform, educate, & delight."* Each evening features discussion with an expert creative and allows for dynamic interaction among participants. Whatever your genre or art, this will be a great way to connect with like-minded writers; to learn, philosophize, & leave inspired.   
There is no cover charge for these events. We welcome writer-ly types of all experience levels and readers, thinkers, and artists of every sort.  
*a description based on Horace's idea of the aims of poetry
From host Doug Jones:
In A Little Book on the Human Shadow, Robert Bly writes: "We notice that when sunlight hits the body, the body turns bright, but it throws a shadow, which is dark. The brighter the light, the darker the shadow." I've been teaching a class called "Writing the Shadow" for over twenty years, and I see my own shadow in plays and screenplays I have written. If you are interested in your own dark side–and if you believe, as I do, that you can learn from it and use it in your writing–I hope to see you at the next Literary Salon. As Peter Gabriel has said, "The darkness still has work to do."
When: Thursday, November 16, 7 pm – 9 pm
Where: Patrick Henry Pub & Grille in the upstairs salon; 2300 East Broad Street in Historic Church Hill
Cost: Free and open to the public
Doug Jones has written and seen produced more than forty plays and screenplays. BBC's Bernard Mayes cited Jones's "ability to write in ways which are appealing to the general poulation without condescension, and focus on the essenitals without sugaring the pill." Recent projects include a one-act play, Frankenstein Lives!, which aired on Virginia's PBS stations, and four films commissioned by the Jamestown-Yorktown Foundation for its 400th anniversary (currently playing at the Jamestown Settlement & Yorktown Victory Center).
Details
Date:

November 16, 2017

Time:

7:00 pm - 9:00 pm

Event Categories: